Have you ever wondered what the pros and cons of engineered wood flooring are? Please have a read of this; it will help you decide on your future purchase.
Few flooring options can match the popularity of wood flooring! Everyone wants it, and if they can't get it, they want flooring that at least imitates the look of it. Hardwood flooring is undeniably stylish and timeless, so it's easy to see why it is so popular.
Engineered wood flooring is a variant of hardwood flooring, with the main difference being that the wood is not 100% solid wood flooring. That might sound bad, but it's important to remember that the engineered hardwood top layer is real wood.
The top layer of wood veneer surface is the only layer people will see, which is 100% real wood. The lower multiple layers are made from multilayer plywood, spruce pine, or HDF.
So, it isn't a total 100% hardwood floor, but it is close to it. Most people won't even be able to tell the difference once the flooring is installed. So, now you know more about engineered hardwood, let's look at the pros and cons of this flooring in more detail.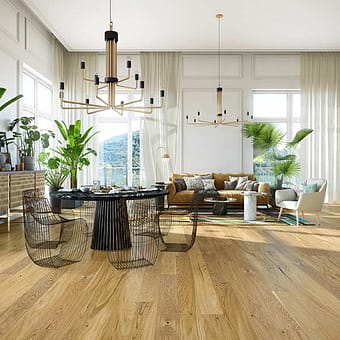 Pro: The Price 
Although the classic charm of hardwood flooring is highly desired, it can also come with a hefty price tag. As a result, many homeowners opt for imitation hardwood options, such as laminate or vinyl. However, engineered hardwood flooring is an excellent option if you're looking for a happy medium between cost and authenticity. While it may be pricier than laminate or vinyl, it's still less expensive than traditional hardwood flooring. Engineered hardwood is unique because it looks and feels just like traditional hardwood, yet it's often more affordable. If you want the aesthetic appeal of hardwood without breaking the bank, engineered hardwood flooring is the perfect solution.
Just Some Of Our Engineered Flooring!
Pro: Stylish
Engineered hardwood will look the same as traditional hardwood flooring on the surface, so it looks incredibly stylish. It is also available in many different finishes. If you have a particular wood you are fond of, you will likely find it in an engineered form. The main appeal of hardwood flooring is its timeless look, which you will get with an engineered wooden floor. Engineered oak flooring is by far the most popular wood floor, and this comes in a multitude of finishes and colours.
Pro: Greater Temperature Resistance 
One of the key benefits of choosing engineered hardwood flooring over traditional hardwood is its increased resistance to moisture and temperature changes. This is due to the unique way in which engineered hardwood is formed. Unlike traditional hardwood, which is cut directly from a tree and prone to shrinkage and swelling, engineered hardwood is made up of multiple layers of wood that are bonded together with adhesive. This construction method helps to minimise the effects of moisture and temperature fluctuations on the wood, making it a more durable and long-lasting flooring option.
In addition to its resilience, engineered hardwood flooring is compatible with water-fed underfloor heating systems. This makes it an excellent choice for homeowners who want to incorporate modern heating technology into their home renovations. By choosing engineered wood flooring, you can enjoy hardwood's beauty and warmth while benefiting from its practical advantages. Whether you're renovating your entire home or just updating a few rooms, engineered hardwood flooring is a versatile and reliable choice.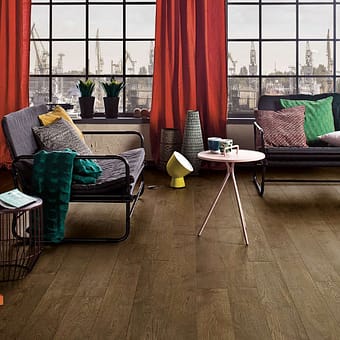 Pro: Adds Value To Your Home
When it comes to adding value to your home, installing hardwood flooring is a popular strategy employed by many homeowners. If properly installed, hardwood flooring can significantly increase your home's overall value, making it an attractive investment. However, engineered hardwood flooring is a great alternative if you're looking for a more cost-effective option that can still offer long-term value. Not only does it provide the same level of aesthetic appeal as traditional hardwood, but it also offers added durability and versatility. Even if you're not planning on selling your home anytime soon, investing in engineered hardwood flooring can pay off in the long run.
Con: Maintenance
Hardwood flooring of any kind will take quite a lot of maintenance to keep its shine and lustre. Engineered wood is the same in this respect; therefore, it is only particularly suitable for homes with pets or young children if you are prepared to keep up with regular maintenance.
Con: Potentially Weak 
There is a lot of variety in engineered hardwood flooring; some manufacturers will use very cheap and weak materials to build their flooring. It might look good on the surface but becomes very weak and unstable after just a short time. Do your research when buying engineered hardwood flooring to ensure you buy from a high-quality manufacturer.
Con: Fading 
Colour changing is another con that engineered hardwood shares with traditional hardwood flooring. Too much contact with UV rays will cause the wood to fade, and this isn't a problem that can be easily fixed if left for too long. Thankfully, you can minimise the risk of fading by keeping your curtains/ blinds closed or using some rugs to cover more vulnerable areas.
The Verdict 
So, what is the final verdict on engineered hardwood flooring? While there are some cons to be aware of, many of these are issues you would also experience with traditional hardwood flooring.
Opting for engineered hardwood flooring is not necessarily a compromise. You can achieve an equally chic and enduring aesthetic at a potentially lower cost. However, it is crucial to select your engineered flooring from a reputable manufacturer and commit to proper maintenance to guarantee a stunning and long-lasting floor.
Here is a link to all the engineered flooring we sell.