Grey Flooring: The Modern Home's Secret Weapon
Dive into the world of interior design, and you'll find grey flooring reigning supreme. It's not just a colour; it's a statement. From the bustling avenues of London to tranquil suburban homes worldwide, grey flooring is the unsung hero, blending sophistication with adaptability. But why has it become such a sensation?
The Grey Enigma: More Than Just a Shade
Grey isn't merely a shade sandwiched between black and white. It's a chameleon, a canvas, a storyteller. It can humbly step back, letting other design elements shine, or confidently steal the limelight. It's this versatility that amplifies a home's aesthetic value.
Want to make a room pop? Lay down some grey, and watch as it accentuates vibrant shades like tangerine, saffron, or ruby. And for those with a penchant for luxury? Grey and metallics think platinum or gold are a match made in design heaven.
Grey Laminate: The Trendsetter
If you're on the lookout for a flooring option that's both trendy and practical, grey laminate is worth considering. It adds a touch of sophistication to any space and creates an illusion of spaciousness, making it perfect for homes tight on area. However, its benefits continue.
One of the most significant advantages of grey laminate flooring is its unyielding strength. Thanks to its intricate layering, topped with a protective sheen, it's often more durable than traditional wood flooring. This means that it can withstand the wear and tear of everyday use, making it an ideal choice for high-traffic areas.
In addition to its strength, grey laminate flooring is also low maintenance. Its distinct hue gracefully hides minor blemishes and everyday mess, making it a godsend for homes buzzing with activity. This means you don't have to worry about constantly cleaning or polishing it, allowing you to focus on other things.
Another great thing about grey laminate flooring is its modern panache. If you're looking for a cutting-edge look, this is the way to go, especially if you're leaning towards a minimalist vibe. Its sleek, understated aesthetic is perfect for those who want to make a statement without going overboard.
Of course, one of the other benefits of grey laminate flooring is its harmonious blend with various home aesthetics. Its neutral tone effortlessly syncs with different design styles, ensuring a seamless flow from room to room. You can easily incorporate it into your home without worrying about it clashing with your existing decor.
Lastly, grey laminate flooring is an excellent choice for DIY enthusiasts. It's a breeze to install among its peers, making it a hit among home improvement enthusiasts. You can save money by installing yourself without worrying about hiring a professional.
Advantages of grey laminate flooring include:
Robust: Not easily damaged, grey laminate flooring design includes a photographic applique just below the protective layer. It ensures the flooring choice is water resistant and more resilient than engineered or solid wood flooring.
Perfect for messy homes: The grey touch and a solid design ensure laminate flooring doesn't show dust or dirt as lighter colours would; perfect for a household with children and pets.
Stylishly sleek: For a real modern presence grey laminate is a better choice than others such as normal wood. Minimalist stylists will find it a better option, especially when you want to add a lighter touch to make a space look roomy.
Complements decor: A major benefit of grey laminate is the ability to complement and accentuate other colours in a home from the walls, accessories to furniture.
Easy to fit: No other hardwood flooring is easier and faster to install, perfect for anyone who is use to DIY.
Solid Grey Wood: The Timeless Classic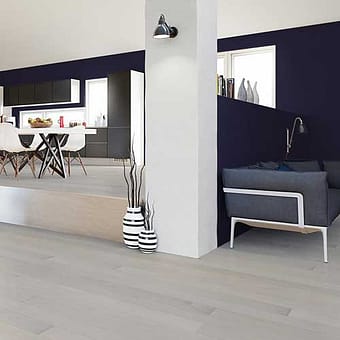 Grey solid wood flooring is a design choice that exudes elegance, durability, and warmth. It is an investment perfect for spaces that see a lot of action. The purists will attest to its poetry in design, and rightly so. Regarding natural wood flooring, there is an unmatched joy in feeling authentic wood beneath your feet. Synthetic alternatives cannot emulate this sensation. 
Its unique combination of finesse and resilience sets grey solid wood flooring apart. It can stand tall against daily challenges, making it a reliable choice for high-traffic areas. The palette of options available is vast, with many wood species. This means there is a world of unique patterns and grains to explore. Whether you're looking for a minimalist look or a more intricate design, there is something for everyone.
In addition to its aesthetic appeal, grey solid wood flooring is also a cosy choice. Its natural insulating prowess makes it an excellent option, especially when winter comes knocking. This flooring solution can keep your home warm and comfortable while adding elegance to your space. 
Furthermore, grey solid wood flooring is a pocket-friendly option. With a range of price points, it ensures quality without breaking the bank. Whether you're looking for a budget-friendly option or are willing to invest in something more high-end, a grey solid wood flooring solution will suit your needs.
Grey solid wood flooring benefits include:
Option to walk on a real natural product

Assures a touch of elegance, timelessness and long life

Sourced from different wood species with diverse grains and patterns

Durable and resistant to normal wear and tear

Warmth-holding way better than stone or tile laminates and superb for colder months

Affordable and fits every budget due to solid wood flooring availability in a long range of price spectrum's from the most inexpensive to highly expensive choices
Grey Engineered Wood Flooring: A Fresh Perspective for Modern Homes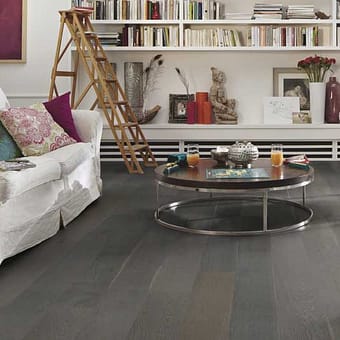 Regarding flooring options, the engineered grey wood is a very popular choice. Its unique and fresh twist on the traditional wood aesthetic is not the only reason it's gaining popularity among homeowners. This type of flooring is designed to be robust and durable, making it perfect for high-traffic areas. It is also immune to warping and damage, a common issue for solid wood floors. 
The maintenance required for engineered grey wood is another factor that makes it an attractive option. While it mirrors the look of solid wood, it is much easier to maintain. Cleaning is a breeze and doesn't require special treatment, making it a practical choice for busy homeowners who need more time for tedious upkeep.
Designers also love the neutral undertones of engineered grey wood. It provides a blank canvas for creative decor experiments, allowing one to create a unique and personal space. Whether you're thinking of a rustic look or a modern vibe, this flooring will complement any design style. 
Overall, grey engineered wood is a wise investment for any homeowner who wants a practical, stylish, and versatile flooring option. Its durability, low maintenance, and designer-friendly features make it a top choice for those seeking a contemporary twist on traditional flooring.
Reasons to choose grey engineered wood flooring:
Unique manufacturing process that makes it durable and not easily damaged or warped thus ideal for communal spaces and busy rooms.

A solid wood feel and look though easier to clean, improve and maintain than wood.

Grey touch allows you to complement other choice colours for a modern look.

Top choice for kitchen flooring where solid wood won't suffice due to liquid spillage and only requires a simple wipe to keep it brand new.
Practicality of grey vinyl flooring
Grey vinyl flooring is an excellent choice for moisture-prone areas, offering resilience and elegance. It is designed to withstand daily wear and tear, making it a durable flooring option that will last for years. 
The installation process for this flooring is hassle-free, thanks to its intuitive design. Fitting costs can be significantly reduced, making it a cost-effective solution for those on a budget. 
This flooring is engineered to combat moisture with finesse, making it ideal for bathrooms, kitchens, and basements. It is also resistant to stains and scuffs, making it perfect for high-traffic zones where spills and foot traffic are expected. 
In addition to its practical qualities, this flooring also has sound-absorbing properties, providing a peaceful atmosphere by muffling footsteps and making it an excellent choice for those who value a tranquil environment. 
Finally, this flooring offers top-tier quality at an affordable price point, making it a smart investment for those looking to watch their pennies. Overall, grey vinyl flooring is an excellent choice for anyone looking for a practical, durable, and cost-effective option that will stand the test of time.
Why grey vinyl flooring is a great choice:
Durability and resilience

Easy to install and low in maintenance

Water resistant with waterproof features thus perfect for areas prone to moisture and spills

Ideal for high traffic areas of the home due to resistance to stains and scuffs

Noise-resistance offering underfoot cushioning

Highly affordable and fits diverse budgets
Wrapping Up
Grey flooring is available in various forms, such as laminate, solid wood, engineered, or vinyl, and it offers a perfect blend of style, practicality, and affordability. Its rising popularity is not just a fad but a testimony to its enduring appeal and contemporary relevance. In the ever-changing world of home decor, grey flooring continues to link the classic beauty of the past and the modern advancements of the present.
Maybe next have a read of this blog – The Ultimate Guide To Wood Flooring