One of the most popular and trendy floors today is grey flooring. Grey hue is intensely versatile and available in quality warm and cool shades. Being a neutral range, grey offers every home owner endless decor possibilities so will go with any coloured walls and will add class and value to your home.  This tops the list of flooring choices across the UK and anywhere else.
Superb foundation
A major advantage of grey is that it's a superb and highly needed foundation you can use to perfect lots of interior styles with. It gives you a chance to get that bold or subtle, striking look you want. The neutral tone of grey is a huge advantage allowing you to infuse all manner of colours in your final decoration tastes for a more satisfying look.
For instance, grey flooring forms the perfect base for a bolder, colourful and bright room. It combines easily well with orange, mustard and red (among other) touches to get you the most enthralling interior space out there. Even the edgiest of vibes can be accomplished with a grey foundation, particularly for those who intend to use silver or gold metallic finishes.
Grey flooring choices fit the bill in diverse ways.
Uniqueness of grey laminate flooring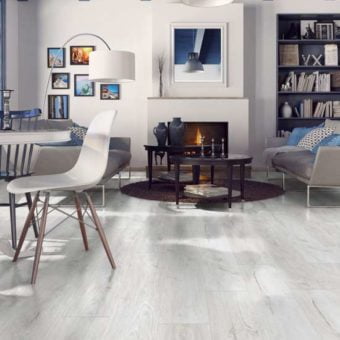 The trendy nature of grey laminate flooring cannot be underestimated, especially for household floors. It's very adaptable and easily paired with diverse colours without losing that touch of sheer uniqueness. Even when working on smaller spaces grey laminate allows you to accomplish that tranquil, airy atmosphere you want while making a smaller room look spacious.
Advantages of grey laminate flooring include:
Robust: Not easily damaged, grey laminate flooring design includes a photographic applique just below the protective layer. It ensures the flooring choice is water resistant and more resilient than engineered or solid wood flooring.
Perfect for messy homes: The grey touch and a solid design ensure laminate flooring doesn't show dust or dirt as lighter colours would; perfect for a household with children and pets.
Stylishly sleek: For a real modern presence grey laminate is a better choice than others such as normal wood. Minimalist stylists will find it a better option, especially when you want to add a lighter touch to make a space look roomy.
Complements decor: A major benefit of grey laminate is the ability to complement and accentuate other colours in a home from the walls, accessories to furniture.
Easy to fit: No other hardwood flooring is easier and faster to install, perfect for anyone who is use to DIY.
Longevity of grey solid wood flooring
At times all you need is a real timeless look in your house that gets better with age. In this regard, grey solid wood flooring is way better than most. Suited for areas with high traffic such as your bedroom, living room or the hallway. You have a floor that has possibilities of refinishing or re-coating for a look that's not bound by time.
Grey solid wood flooring benefits include:
Option to walk on a real natural product

Assures a touch of elegance, timelessness and long life

Sourced from different wood species with diverse grains and patterns

Durable and resistant to normal wear and tear

Warmth-holding way better than stone or tile laminates and superb for colder months

Affordable and fits every budget due to solid wood flooring availability in a long range of price spectrum's from the most inexpensive to highly expensive choices
Fresh feel of grey engineered wood flooring
A wholly fresh take of a floor requires the right product for the job and grey engineered wood flooring fits the bill impeccably. It's the kind of unique touch you need to impress any guest in your home. While the soothing nature of the colour makes the grey engineered ideal for bedrooms. Its design allows you to have under-floor heating below, so keeps it warm and relaxing.
Reasons to choose grey engineered wood flooring:
Unique manufacturing process that makes it durable and not easily damaged or warped thus ideal for communal spaces and busy rooms.

A solid wood feel and look though easier to clean, improve and maintain than wood.

Grey touch allows you to complement other choice colours for a modern look.

Top choice for kitchen flooring where solid wood won't suffice due to liquid spillage and only requires a simple wipe to keep it brand new.
Practicality of grey vinyl flooring
Grey vinyl flooring is practical and stylish no matter how you look at it. It's durable and resilient, requires little effort to install and little maintenance to keep it sleek new. While shopping for resilient flooring for your household space it's important to balance between final appearance and longevity. Vinyl balances both and some more, including offering water resistance, waterproof feature with the right grey vinyl flooring choice and noise resistance in most modern grey vinyl options.
Grey vinyl is versatile enough to cater for areas in any space prone to wetness, spills and moisture such as utility rooms, bathrooms, basements to kitchens. It's also what you want as flooring for high-traffic sections of the household, particularly for being resistant to stains and scuffs.
Being noise resistant, grey vinyl eliminates crackling reverberations made by most floors while walking on it. It's engineering lowers the sounds while offering a comfortable floor to walk or stand upon. If you're on a budget, grey vinyl flooring is a solid choice due to its affordability; fits every budget while still being top-notch flooring for every living space.
Why grey vinyl flooring is a great choice:
Durability and resilience

Easy to install and low in maintenance

Water resistant with waterproof features thus perfect for areas prone to moisture and spills

Ideal for high traffic areas of the home due to resistance to stains and scuffs

Noise-resistance offering underfoot cushioning

Highly affordable and fits diverse budgets